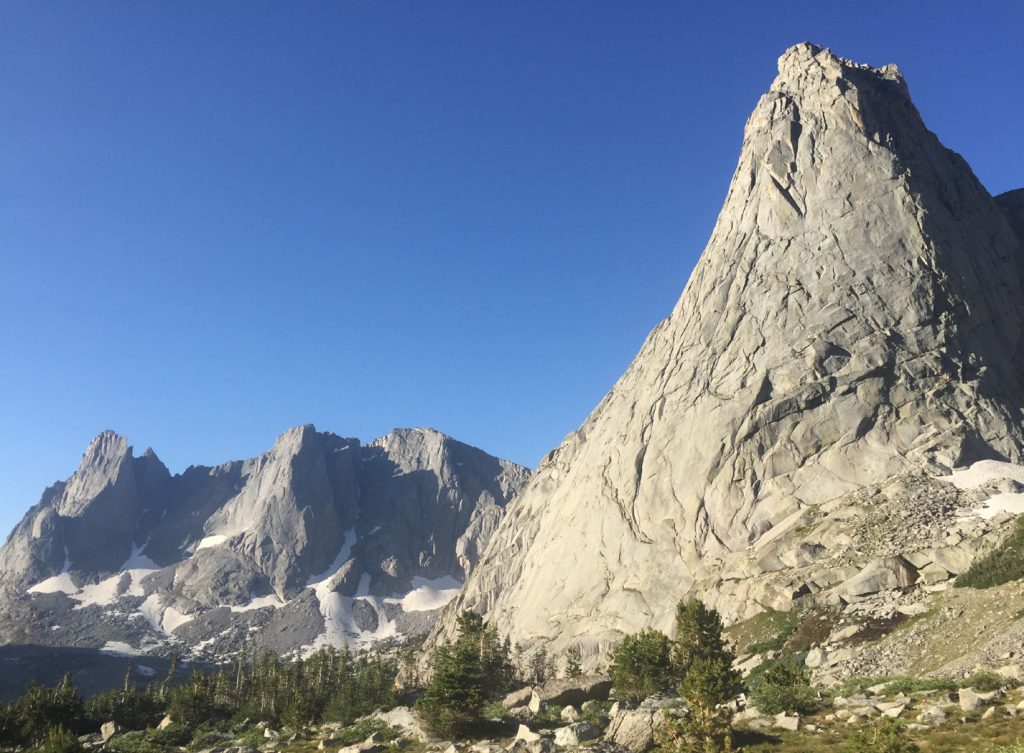 The Staff Development Fund is a resource for COBS staff to help further their skills and personal development. Each year staff can submit a proposal for funding to offset the costs of an expedition, advanced certification, conference/workshop, or exploratory trip. The fund is available thanks to the generous contributions of donors and former staff.
---
Part I: Growth and Uncertainty in the High Sierra by Spencer
Nikita and my COBS Development Fund trip to California's High Sierra mountain range and the big granite walls of Yosemite Valley will stick in my memory forever. While the climbing was certainly outstanding, it is not what is imprinted in my mind. The timing of our westward journey marked a significant turning point in both our lives. After the trip, I planned to move to New York City and Nikita planned to embark on a masters program. The backdrop of our non-climbing lives intensified the commitment to and emotion behind our journey.
We recreated the COBS student experience – challenges included. Not only did we push ourselves technically and physically but also emotionally. Stepping onto unknown big walls almost perfectly paralleled the enormous, foreign steps we were taking in our personal lives. We ask our students to take this leap of faith on every COBS trip; it was my turn to jump. As a student again, I was met by uncertainty, discomfort, and fear. I asked myself to overcome the same doubts I help my students face.
We failed. With anxiety grasping hold of Nikita, we decided to not pursue our full objective. Our decision forced me to question why we do what we do. Often, I set arbitrary objectives for myself and yet give so much weight to them. I seek adventure in the mountains because it strips away the noise of everyday life – it is real, raw, and beautiful. Nowhere else in the world can I find such a clear mirror for self-reflection and discovery. In the end, it is not the difficulty of the climb nor the size of the mountain but the way in which we approach the challenge set be¬fore us that matters. In these trying moments (with a supportive friend beside me), I am able to explore who I am and assess my own abilities. We did not complete our original objective, something I had to learn to be okay with.
The COBS development fund and this trip fostered my technical skill, allowing me to become a more knowledgeable instructor. Leading nearly 100 pitches of traditional climbing, many near my limit, helped me refine my movement, gear placement, and risk management skills. These skills directly transfer to guiding students in the mountains with greater ease. I have strengthened my ability to identify, assess, and control objective and subjective risks.
Learning to deal with my own fear and uncertainty as well as that of my partner gave me insight into the psychological complexities we all carry. A deeper understanding of stress, self-doubt, and anxiety, especially in today's world, better equips me as an instructor. On every COBS course, instructors face lesser motivated and disheartened students who need support to carry on. The more that we can connect with these students on a human level the more likely we are to keep them on course and allow them to express their best selves. From an opposing angle, highly motivated students sometimes face disappointment when objectives are changed due to group dynamics. As instructors, we learn to be fluid based on the group's needs. I teach this patience but rarely practice it myself.
As I take a step back from COBS and onto the sidewalks of my new urban playground, I know I will be back. Back to the High Sierra of California to finish what I started, back to El Capitan to honor a lost friend, and back to COBS to share in the development and growth of our youth. I am grateful to COBS and the Development Fund for giving me the opportunity to explore my humanity and develop my skills as a mentor and guide. I am especially grateful to my dearest friend Nikita for never failing to share his love, support, and passion with me.
---
Stay tuned for Part 2, which will feature Nikita's takeaways from the expedition.
About the Author